This slideshow requires JavaScript.
About our baby and toddler music classes:
Whippersnapper baby and toddler music classes currently run across our two sites:  Brockwell Lido in Brockwell Park SE24 and College Lodge in Dulwich Park SE 21. We also have classes at the Dreamcatcher Cafe, Crystal Palace and out reach at various nurseries such as Nellies.
Classes are themed and last 45 minutes and include  inter-active songs, role play, dressing up, handmade  props, djembe drums, musical instruments, puppets, disco dancing and sensory lights.
On Tuesdays and Wednesdays we run pre crawler sensory stay and play music sessions, suitable for new borns and babies up to approximately 12 months. We also offer mixed baby and toddler music sessions five days a week, suitable for children aged 6 months and above.
---
Click to find your nearest class:
---
Summer Term 2018:
(Classes run term time only)
Summer Term is now over however booster classes will be running at Brockwell Lido on Tuesdays and Wednesdays only until throughout July.
Booster Class dates:
Tuesday 17th, Wednesday 18th, Tuesday 24th and Wednesday 26th July.
Class times:
10:30am Mixed baby and toddlers music
11.30am-1.30pm Pre-Crawlers sensory stay and play music
Autumn Term 2018:
Monday 3rd September to Friday 30th November
(term time only)
---
Looking for one of our baby and toddler or 3-5 year old birthday parties? click here
---
 Our history:
Whippersnappers  began by providing Baby and Toddler music classes for the under fives and in 1997  created their own style of music called "Pickny Beat".
The original 'Pickny Beat' CD is available to buy at Whippersnappers sites and listen to on youtube:
Here are some videos of our under 5's songs filmed over 10 years ago:
---
Looking for a original birthday present for your  whippersnapper child?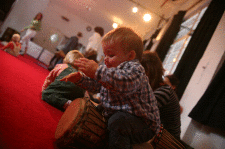 Order your own customised Djemebe drum with your child's name carved on the drum.
To order email: cburghard@whippersnappers.org
---
Click to find your nearest class: