Whippersnappers offer work experience to secondary school pupils and college / degree students. Work placements can last anything from 1 week to 1 year. We  are totally inclusive so don't hesitate to contact us. We also have a number of secondary school students that are peer mentors at our after school clubs and holiday playschemes. Please contact us if you are interested!
click here to see the requirement for Work experience / Volunteering
July 2016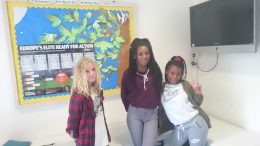 From Monday 11th July to Friday 15th July 2016, Whippersnappers were very fortunate to have three year 10 students on work experience. Taigan Eccleston-Wray and Nikeisha Alexander were from The Charter School and Eve Evans-Perks was from Dunraven. All three were helpful and learnt a lot about working at a workplace.
_________________________________________________
November 2015
From Monday 23rd November to Friday 28th November, 2015 Whippersnappers were very lucky to have three enthusiastic  year 10 students from Bacons College on Work Experience. John, JJ and Mohamed were very helpful by supporting our baby and toddler classes, after school club and setting up for our December Winter Wonderland. They were very popular amongst children, parents and staff – well done boys
July 2015
For two weeks during July, Whippersnappers were very lucky to have two students from local school St Martins in the Fields High School for Girls attend. See letter from Daniella Opoku and Sylvia Boakye :
Dear Caroline,
I would like to primarily thank you for allowing me to spend two weeks at your organisation and providing such a welcoming and friendly working ethos for me. I really appreciate the opportunity to be a part of the Whippersnappers team!
What I particularly found useful, for my chosen career path, was getting the opportunity to visit the Livity School and also getting the chance to spend some time with the children with special needs. It made me realise that being a drama therapist in this field won't just be about the psychological and scientific job, but also requires you to be very patient and also to have passion for understanding and enhancing progress in the patients' lives.
However, working with the children could be a bit tiring after a while so I enjoyed doing some of the administration too. This helped me to see everything involved in running the department – researching for the playschemes and filing for the human resources. It made me realise the amount of effort that is actually put into the organisation and that before the fun and games, there is persistent, dedicated planning.
I am still hoping to become a drama therapist and if I succeed, my experience of working in Whippersnappers will always be useful. Please pass on my best wishes to all the staff and thank them for their help.
Yours Truly,
Daniella Opoku

Dear Mrs Caroline,
This is a letter to express my gratitude for all the great opportunities I have had at Whippersnappers for the past two weeks. I am very glad to have been part of Whippersnappers organisation. I can't tell you how much I enjoyed my time over there. I would love to keep in touch with this amazing organisation. It was a great privilege and pleasure working with such a wonderful team.
Yours sincerely,
Sylvia Boakye
June 2015
Emily Osakwe did one week work experience at Whippersnappers After School club between Monday 1st June and Friday 5th June. Emily lives in Germany and specifically came to England in order for this work experience. During the week, Emily helped set up the children's tables for their tea time, support activities and even led on an activity where she spoke about German culture, taught children how to count to 10 in German and learn the German Alphabet song. Children also participated in a Q&A where they asked Emily about Germany and how different it is in England. Below is a letter from Emily regarding the weeks experience:
Work Experience at Whippersnappers
I really enjoyed this week. The activities were really good. I liked the smoothie workshop the most. This week was a great chance to improve my English. I found out more about living in England by talking with the kids and the staff. Everybody was really kind. It was really interesting to learn everything about childcare. The week passed quickly and I am really thankful for this great chance.
At the beginning of the day, we started with the preparing of the tables for the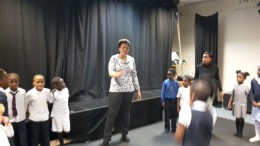 children to eat. After that, we collected the kids from their school. I went to a different school everyday and helped to pick the children up. Later, they ate their meal together and afterwards we talked to them about  the activities they can choose from. The activities were different everyday – going outside, playing soccer, games.
This week was really positive and helpful for my future.
Thanks,
Emily Osakwe
________________________________________________________________________