Welcome to Whippersnappers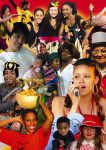 Whippersnappers were founded in 1994 and are a not for profit Community Interest Company. We are based at Brockwell Lido in Brockwell Park, Herne Hill, SE24 with a second site at College Lodge in Dulwich Park SE21.
We pride ourselves in being a cross generational company offering creative arts and care to all ages from babies to elders. We believe in inclusivity and offer bespoke provision for children and young people with disability. Your support allows people of all ages and backgrounds to access our inclusive services London wide.
---
Whats on Summer Term:
Reminder no baby & toddler classes at Brockwell Lido on bank holidays: 
Bank Holiday Monday 7th May NO CLASS classes resume as usual Tuesday 8th May 
Bank Holiday Monday 28th May NO CLASS classes resume as usual Tuesday 29th May

---
Whippersnappers Half Term Holiday Playscheme: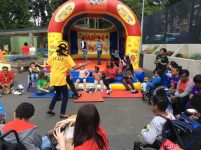 Are you looking for childcare during the half term holidays? Whippersnappers will be offering creative and sporting activities and trips out for 5 – 12 year olds during the May half term holidays from 10am – 5pm (extended hours available on request). Prices start from £25 a day. To see more about our holiday play schemes click here. To reserve your child's space email yjama@whippersnappers.org or call 0207 738 633.
Here's what we were up to in our inclusive summer play scheme 2017:
---
Whippersnappers Fairyland & Mythical Creatures 2018
Whippersnappers Fairyland will be back this year throughout July and August in our beautiful park keepers lodge in Dulwich Park.
This is a one hour long interactive theatrical experience for boys and girls aged 3 – 7 years and their siblings and an unmissable experience for both children and adults. This years activities will include a woodland pixie quiz, science experiments with the tooth fairy, making wishing unicorn cakes in sugar plums kitchen and enjoying magical story telling in our mythical bell tent. Magical refreshments are provided and each child will go home with their very own fairy or dragon wings.
Stay tuned for more information on specific dates and how to book tickets!
See below what we were up to in Fairyland last year: