Welcome to Whippersnappers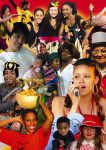 Whippersnappers were founded in 1994 and are a not for profit Community Interest Company. We are based at Brockwell Lido in Brockwell Park, Herne Hill, SE24 with a second site at College Lodge in Dulwich Park SE21.
We pride ourselves in being a cross generational company offering creative arts and care to all ages from babies to elders. We believe in inclusivity and offer bespoke provision for children and young people with disability. Your support allows people of all ages and backgrounds to access our inclusive services London wide.
---
Whippersnappers Fairyland & Mythical Creatures
Immersive theatre event for 3 – 7 years
From 7th July – 9th August 2018
This July and August sees Whippersnappers' Victorian Park Keepers Lodge transformed into a magical land of Fairies, Pixies and Mythical Creatures.
Whippersnappers Fairyland is a 1 hour immersive theatrical experience for boys and girls aged 3 – 7 years and siblings.
The Whole Whippersnappers Fairyland Experience includes: A free set of wings (dragons or fairies) refreshments for children and adults, cooking activity, slime making activity, Wyld Woodland visit and a 15 minute inter-active theatrical folk tale. For more information and to book tickets visit: www.whippersnappersfairyland.co.uk
Our Whippersnapper Fairyland Mythical Creatures and Winter Wonderland are annual fundraising events which raise money to maintain our inclusive community arts centre in Dulwich Park and to run inclusive activities for children and adults with disabilities.
See below what we were up to in Fairyland last year:
---
Whippersnappers Summer Holiday Playscheme: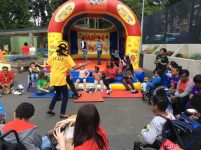 Are you looking for childcare this summer? Whippersnappers will be offering creative and sporting activities and trips out for 5 – 12 year olds during the summer  holidays from 10am – 5pm (extended hours available on request). Dates Monday 30th July to Friday 17th August. Prices start from £25 a day. To see more about our holiday play schemes click here. To reserve your child's space email yjama@whippersnappers.org or call 0207 738 6633.
Here's what we were up to in our inclusive summer play scheme 2017: